Here are some Tips for Red Lips, these are my personal likes and we added some tutorials from some other people, because real life and the planet is composed of many likes and different ideas, we wish for you to take what works for you and experiment to create your own, here we go.
For the elegant glamour of 1950's Hollywood, red lips never go out of style, but precision is essential.  Choose a lipstick that suits your coloring-deep, plummy reds look fantastic on dark skin. Cool blue-based reds suit pink-toned and pale skin while orange-based reds are less draining on a warmer complexion (but make sure it doesn't accentuate any redness in your checks).
1. Prepare your lips well. Dab foundation around the lip area and over the lip itself if you like that tend to make the lipstick last longer but it adds up product and looks a bit unnatural if overdone. Also you can use Lip Primer or a concealer, make sure to apply lightly or it will show to dry ant remember you may want to layer colors .  This tones down any redness and ensures the line of the lips will be sharp and defined.
2.Use a matching waxy lipliner to prevent any bleed around the lips.  Spend time drawing the outline, making sure the lips are completely symmetrical and the bow is even.  An uneven top lip shows up with red lipstick more than any other color.  Start at the V of the Cupid's bow and take the liner right into the corners.
TIP: Don't forget to outline the corners of the mouth, you can do this with your mouth open, it makes it easier.
3.  Fill in the lip with the pencil to hold the lipstick in place and make it last longer.  Go over the pencil color with a lip brush, working it into any creases.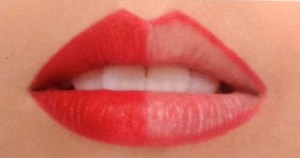 4. Paint on the lipstick using a lip brush for precision, starting in one corner and working inward.  Use the tip of the brush for the edges and the flat of the brush for larger areas.  Blot with a tissue and apply another coat, if need it or your personal preference.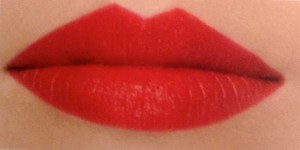 5. Add a dab of gloss in a clear or slightly lighter shade at the center of the lower lip and press your lips together only when both lips are closely the same size to give an illusion of fullness.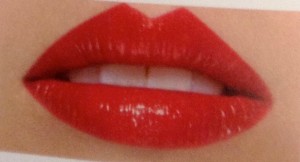 TOP TIPS
Red lips spell grown-up glamour and should be worn with confidence.
Hair color is not so relevant when choosing the right shade of red – it's skin tone that counts ( and what you are wearing or were you are going).  Pink tones are best suited to cooler "blue reds" while darker, Mediterranean, and Asian skins are better suited to "orange reds".
Red lips will be the focus, so keep the rest of your make-up minimal.
A red-tinted lip-gloss will give a more subtle effect.
Try not to touch your mouth so you don't risk smudging the lipstick.  Matte finishes are more resistant to smudging than gloss.
Tip: keep in mind That red lips are a strong statement and my not be suited to every occasion or wardrobe choice, use your judgment.
Here are some videos and other ideas from different sources :
Wishing you Health, Happiness, and wealth From all of us at isabelsbeautyblog