Isabel's Beauty Blog is a distributor for Young Living Essential Oils.
Here are a few Young Living skincare products we are featuring.

The A.R.T Creme Masque is formulated to deeply moisturize and protect skin using an exclusive blend of hyaluronic acid and pure essential oils. Other natural, spa-quality botanicals are added to help soothe, tighten, and restore the look of youthfulness to the skin.  
Creme Masque Essential Oil Blend:
Vetiveria Zizanoides (Vetiver) Oil
Artemisia Pallens (Davana) Oil
Chamaemelum Nobile (Roman Chamomile) Oil
Cananga Odorata (Ylang Ylang) Flower Oil
Pelargoium Graveoens (Geranium) Flower Oil
Carphephorus Odoratissimus (Vanilla) Oil
Ocotea Quixos (Ocotea) Oil
Jasminum Officinale (Jasmine) Oil 

A.R.T.® Renewal Serum is an intricate blend of exotic orchids petals and essential oils that helps protect and revitalize skin. These premium ingredients work in harmony to deeply nourish and hydrate the face, creating vibrancy and health that radiates from within.
Young Living Sensation Essential Oil Blend
Coriandrum Sativum (Coriander) Seed Oil
Cananga Odorata (Ylang Ylang) Flower Oil
Citrus Auratium Bergamia (Furanocoumai-Free Bergamot) Peel Oil
Jasminum Officinale (Jasmine) Oil 
Pelargoium Graveoens (Geranium) Flower Oil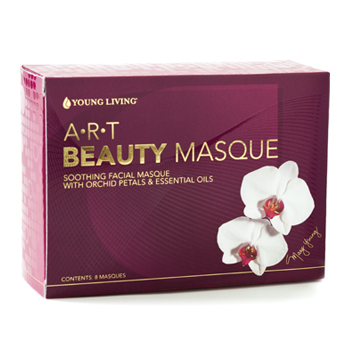 The A.R.T® Beauty Masque is a premium, orchid-based formula designed to soothe skin and leave it feeling healthier and more radiant. Our blend of exotic orchid petals and pure essential oils nourishes and fortifies the most delicate areas of the face, helping promote a more vibrant and youthful appearance. Suitable for all skin types.
Young Living Stress Away™ Essential Oil Blend
 Copaifera Reticulata (Copaiba) Oil 
Citrus Aurantifolia (Lime) Oil 
Cedrus Atlantica (Cedarwood) Bark Oil 
Vanilla Planifolia (Vanilla) Absolute 
Ocotea Quixos (Ocotea) Oil 
Lavandula Angustifolia (Lavender) Oil

Orange Blossom Facial Wash™ is a gentle, nonabrasive, free-rinsing cleanser that removes dirt and makeup without stripping skin of natural oils. It contains MSM to promote healthier and clearer skin, wolfberry seed oil to hydrate, and essential oils to soothe with aromatic benefits. Added botanicals protect skin from free radical damage.
Lycium Barbarum (Ningxia Wolfberry) seed oil
Lavandula angustifolia (Lavender) 
Pogostemon Cablin (patchouli) 
Citrus limon (Lemon) 
Rosmarinus Officinalis CT Verbenon (Rosemary Verbenon)

Bring life back to your skin with this all-natural lightweight moisturizer infused with skin-loving lavender essential oil. Added nutrients such as wolfberry seed and jojoba oils fortify your skin's natural moisture barrier to maintain long-lasting hydration. The Infinite Uses of Lavender
Santalum Album (Sandalwood) Wood Extract
Lavandula Angustifolia (Lavender) Oil 
Lycium Barbarum (Wolfberry) Seed Oil
Commiphora Myrrha (Myrrh) Oil 
Limon (Lemon) Peel Oil 
Artemisia Pallens† (Davana) Oil 
Gary Young's Passion Is Essential Oils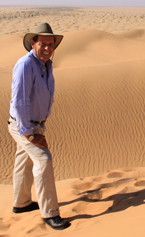 Gary Young's commitment to understanding the remarkable therapeutic power of plants has resulted in the world's largest line of essential oils and blends. Gary has traveled the globe discovering how to best support both physical health and emotional wellness. His discoveries have helped hundreds of thousands of people experience the benefits of natural healing and have led to the creation of the world's largest and foremost authority on essential oils sciences: Young Living Essential Oils.