Evan Healy is a holistic aesthetician, a recognized pioneer and skincare educator who has worked in the natural personal care industry for over 25 years.
Which treatment line is right for you:
Rose, Blue or Blemish?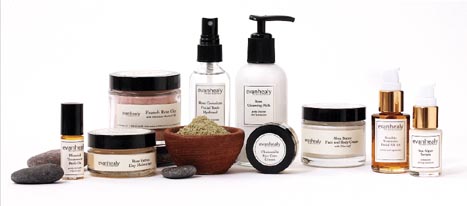 evanhealy consists of a range of face and body care preparations that are designed to work together to encourage balance. We do this, not by treating the imbalance, but by utilizing active, holistic and simple plant-based formulations that encourage the skin to regulate itself — to breathe. Products are grouped together by their primary essential oil synergy.
Rose Treatment line helps re-establish a healthy hydro/lipid balance to combination skin. It is also appropriate for mature skin with fine lines and wrinkles. Our Rose Line features gentle and balancing essential oils of rose geranium and carrot seed.
Product selections
Rose Cleansing Milk, Rose Geranium Facial Tonic Hydrosol, Rosehip Treatment Facial Oil – Rose, Rose Vetiver Day Moisutrizer and French Rose Clay Mask, or Rose Face Care Kit.

Blue Treatment line helps reduce inflammation and restore normal function to sensitive skin conditions, especially the sensitivity that accompanies rosacea, psoriasis and eczema. Featuring tranquil and calming essential oils of blue chamomile, lavender and immortelle.
Product selections
Blue Lavender Cleansing Milk, Lavender Facial Tonic Hydrosol, Rosehip Treatment Facial Oil – Blue, Blue Chamomile Day Moisturizer and Green Tea Clay, or Blue Face Care Kit.

Blemish Treatment line was created to deep cleanse, detoxify and refine pores. It helps restore normal function to blemished, oily and/or teen skin.
Product selections
Tea Tree Gel Cleanser, Orange Blossom Facial Tonic Hydrosol, Pomegranate Repair Serum, Blemish Treatment Roll-on, and Green Tea Clay, or Blemish Face Care Kit.
These are general guidelines only: trust your own sense of smell and intuition when deciding which product is appropriate for your skin's current condition.
SKIN CONDITION
Sensitive: Rosacea, Eczema, Psoriasis, Allergic
evanhealy – Organic Skincare