Spring
Hello everyone we wish you health, happiness and ideal abundance for your families and friends.On week 215 we are sharing facts, history, recipes and much more. All about SPRING!!!  Beautiful season, time for nature to come alive again, birds mate , people start new relations and so much that this season inspires. I personally love it, and a great time for an  inside and outside cleanse. Soon is the time to show our body more, so chop chop, lets get going.
This post is addressing facts like the Jet streams which are a crucial part of seasons and their atmospheric moods, an important fact aside, we share recipes ,videos and the relationship in spring according to Chinese medicine. A very well researched post, enjoy and don't forget to share and like, if you do it helps us to keep going.The social media and web traffic is crucial for our blog.
Thank you for all your support we are very grateful form all us at isabel's Beauty Blog.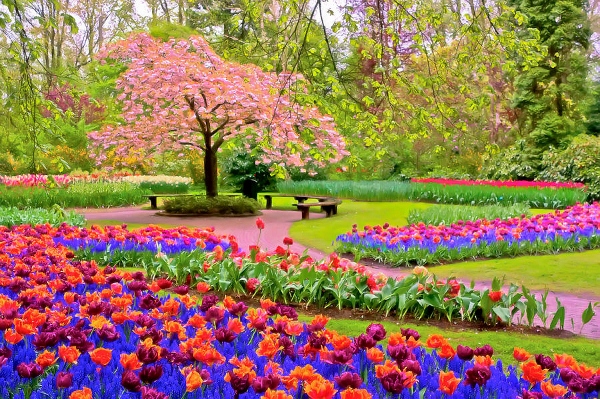 According to wikipedia:https://en.wikipedia.org/wiki/Spring_(season)
Spring is one of the four conventional temperate seasons, it follows winter and precedes summer. In the many technical definitions of spring the term varies according to local climate,due to cultures and customs. When it is spring in the Northern Hemisphere, it will be autumn in the Southern Hemisphere and so on. At the spring equinox, days are approximately 12 hours long with day length increasing as the season progresses. Spring for most part refers to the season, and to ideas of rebirth, rejuvenation, renewal, regrowth, internal and external cleansing.
During spring, the axis of the Earth is increasing its tilt relative to the Sun, and the length of daylight rapidly increases for the relevant hemisphere. The hemisphere begins significantly to warm causing new plant growth to "spring forth," giving the season its name Springtime. Snow, a normal part of winter, begins to melt, and streams and rivers swell and start to flow. In climates that have no snow and rare frosts, the air and ground temperatures increase more rapidly. Many flowering plants bloom this time of year, in a long succession sometimes beginning when snow is still on the ground, continuing into early summer.In normally snowless areas, "spring" may begin as early as February (Northern Hemisphere) or August (Southern Hemisphere) in the same way.Many temperate areas have a dry spring, and wet autumn (fall), which brings about flowering in this season more consistent with the need for water as well as warmth. Subarctic areas may not experience "spring" at all until May or even June is a big difference there.
The rainfall in spring or any season for that mater follows trends more related to longer cycles or events created by ocean currents and ocean temperatures. Good and well-researched examples are the El Niño effect and the Southern Oscillation Index.
Unstable weather may more likely to occur more often during spring, when warm air begins on occasions to penetrate from lower latitudes, while cold air is still pushing from the Polar regions. Even more so than in winter, the jet streams play an important role in unstable and severe weather in the springtime in the Northern Hemisphere.
Jet streams are fast flowing, narrow air currents found in the upper atmosphere or in troposphere of some planets, including Earth. The main jet streams are located near the altitude of the tropopause. The major jet streams on Earth are westerly winds (flowing west to east). Their paths typically have a meandering shape; jet streams may start, stop, split into two or more parts, combine into one stream, or flow in various directions including the opposite direction of most of the jet. These straps are crucial to weather and important to learn about them so here we go with a breve description.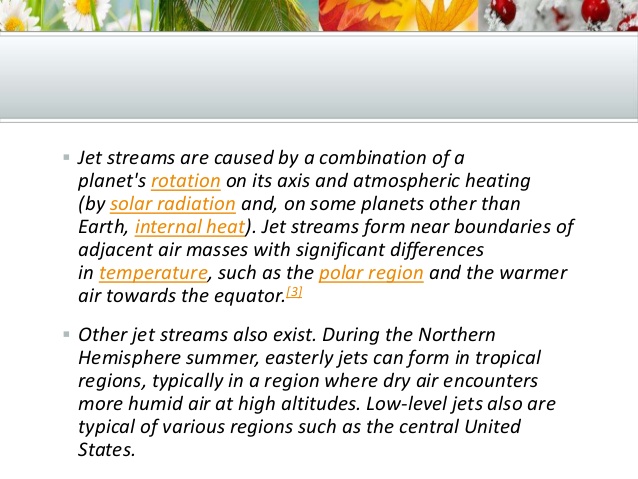 Spring is seen as a time of growth, renewal, of new life (both plant and animal) being born many lovers relationships start in spring. The term is also used more generally as a metaphor for the start of better times, as in the Prague Spring.
Let learn how deferent parts of the planet celebrates spring, how fun!
Albania
Albania celebrates the lunar Spring Day (Albanian: Dita e Verës or Dita e Luleve) on March 14, and from 2004 it has been a national holiday. It is an old pagan practice, particularly popular in the city of Elbasan, in central Albania.
According to some sources, Dita e Verës derives from the Arbëreshë, an Albanian community that has lived in Italy since the 15th century. On 14 March, the Arbëreshë of the Italian coast collect a tuft of grass roots and soil, bringing it home to commemorate the anniversary of their emigration from Albania. In fact, some sources date back this celebration to ancient Illyria. At that time, the feast was celebrated on 1 March, which in the Julian calendar, corresponded to the first day of the year.
Australia
Main article: Spring Carnival
The annual Spring Racing Carnival of thoroughbred horse racing events is held in Melbourne in October and November, with large crowds attending. The Melbourne Cup, held on the first Tuesday of November, is Australia's premier horse race and is recognised as a public holiday in the host city of Melbourne. It is also referred to as the race that stops a nation.
Bangladesh
Celebration stage of 1st day of Falgun, beginning of spring season in Bangladesh, 2014
Spring is a festive time in Bangladesh. People celebrate this season with newly reaped paddies. Villagers make various types of pitha cakes to entertain guests.
Canada
Main article: Victoria Day
Victoria Day in Canada is celebrated on the Monday on or before 24 May. The holiday is celebrated in honour of Queen Victoria's birthday, but is often informally considered as marking the beginning of the summer season in Canada.
Carnival
In some regions, the first spring festival of the new year is carnival, 40 days before Easter.Like in the Carnaval in Rio de Janeiro, carnival is considered the world's largest, hosting approximately two million participants per day. In 2004, Rio's carnival attracted a record 400,000 foreign visitors.
The term Carnival is traditionally used in areas with a large Catholic presence. However, the Philippines, a predominantly Roman Catholic country, does not celebrate Carnival anymore since the dissolution of the Manila Carnival after 1939, the last carnival in the country.[6] In historically Lutheran countries, the celebration is known as Fastelavn,[7][8] and in areas with a high concentration of Anglicans and Methodists, pre-Lenten celebrations, along with penitential observances, occur on Shrove Tuesday.[9] In Eastern Orthodox nations, Maslenitsa is celebrated during the last week before Great Lent. In German-speaking Europe and the Netherlands, the Carnival season traditionally opens on 11/11 (often at 11:11 a.m.). This dates back to celebrations before the Advent season or with harvest celebrations of St. Martin's Day.
Easter
Easter eggs, such as this Ukrainian one, signify the Resurrection of Jesus.
Easter is the most important religious feast in the Christian liturgical year. Christians believe that Jesus was resurrected from the dead on the "third day" two days after his crucifixion, and they celebrate this resurrection on Easter Day, two days after Good Friday. The date of Easter varies between 22 March and 25 April in most traditions, and between 4 April and 8 May in some Eastern Christianity.
Egypt
Sham ennisim is an Egyptian national holiday marking the beginning of spring. Ancient Egyptians (from the pharaonic period) used to celebrate the Harvest of the Wheat and modern Egyptians have continued celebrating this holiday until now. It always falls on the day after the Eastern Christian Easter (following the custom of the largest Christian denomination in the country, the Coptic Orthodox Church). Despite the Christian-related date, the holiday is celebrated by Egyptians regardless of religion.
Iran
Nowruz (also Nevrooz, Naw-Rúz, Norooz, Newroz, Navroj, and many other variants) which means "New Day" in Persian language,  it marks an important traditional holiday festival celebrated in Iran as it signifies the start of their new year. It is a very important traditional holiday as well as in many other countries with a significant population of Persian people, such as Azerbaijan, Afghanistan, Kyrgyzstan and Tajikistan, and by Kurdish communities in Turkey and Iraq and elsewhere.
Israel
In the ancient Jewish calendar, the month of Nisan was the original first month of the year. The Jewish holiday of Passover (פסח) is celebrated in the 15th of Nisan, and is also known as "The Spring Holiday" (חג האביב).The State of Israel holds three national holidays during the spring: Yom HaZikaron LaShoah VeLaGevurah (Holocaust Memorial Day), Yom Hazikaron (Memorial Day for Israel's Fallen Soldiers) and Yom Ha-Atzmaut (Independence Day).
India
Holi, the festival of colours, celebrated at the end of the winter season and beginning of spring, is the most vibrant festival of colours celebrated by Hindus in India. People throw water and apply coloured powders on each other, beautiful to see.
Vasant Panchami is celebrated in North India on the fifth day of the Indian month Magh (January–February), the first day of spring. Sankranti in Maharashtra, Andhra Pradesh and Karnataka and Thai Pongal in Tamil Nadu are celebrated in mid-January to mark the beginning of the spring season.
In Assam Valley, Rongali Bihu is celebrated for seven days from 13 to 19 April. This is a harvesting festival celebrated in spring by all sections of the community, which distinguishes it from other Indian festivals that are more religious in nature.
 Nowrouz
In India, Nowrouz is called Navreh or Navrojh. Many people celebrate Nowrouz, mainly in the states of Jammu and Kashmir, Gujarat and in Uttar Pradesh.
May Day
 May is the date of many public holidays. In so many countries, May Day is synonymous with International Workers' Day, or Labour Day, which celebrates the social and economic achievements of the labour movement. As a day of celebration, the holiday has ancient origins, and it can relate to many customs that have survived into modern times. Many of these customs are due to May Day being a cross-quarter day, meaning that (in the Northern Hemisphere where it is almost exclusively celebrated) it falls approximately halfway between the spring equinox and summer solstice. In the Celtic tradition, this particular date marked the end of spring and the beginning of summer. In line with this, Ireland celebrates St. Brigid's Day (1 February) as the first day of spring.
Mesopotamia
 Akitu and Tammuz (deity)
Akitu (Sumerian Akiti-šekinku "cutting of barley", Akiti-šununum "sowing of barley", Babylonian rêš-šattim "head of the year") was a spring festival in ancient Mesopotamia.
The name is from the Sumerian for "barley", originally marking two festivals celebrating the beginning of each of the two half-years of the Sumerian calendar, marking the sowing of barley in autumn and the cutting of barley in spring, in the month of Nisannu (Aries). In Babylonian religion it came to be dedicated to Marduk's victory over Tiamat.
Nepal
In Nepal, people celebrate Holi, the Hindu festival of colors. amazingly beautiful 
Romania
Mărțișor (Romanian pronunciation: [mərtsiʃor]) is an old Romanian celebration at the beginning of spring, on March 1. Mărțișor, marț and mărțiguș are names given to all  the red and white string from which a small decorations are tied, and which is offered by people on the 1st day of March. Symbolically, it is correlated to women and to fertility as a means of life and continuity. This tradition is authentic in Romania, Moldova and all territories inhabited by Romanians and Aromanians.
Sri Lanka
Cultural anthropological history of the 'Traditional New Year', which is celebrated in the month of April, goes back to an ancient period in Sri Lankan history. Various beliefs, perhaps those associated with fertility of the harvest, gave birth to many rituals, customs, and ceremonies connected with the New Year. The advent of Buddhism in the 3rd century BC led to a re-interpretation of the existing the new year activities in a Buddhist light. The majority of the people in the country are Buddhists and Hindus, and as such, it is the Buddhist outlook that was predominant in transforming the New Year rites to what they are now.
Turkey
Nowruz and Hıdırellez
Nowruz (Turkish: Nevruz) is mostly celebrated by Kurds in Turkey. It is actually Persian the spring festival and the beginning of the year.  However, it has a national side for Kurds (Kaveh the blacksmith), so they usually try to wear something yellow-red-and-green which come from representing the Kurdish Flag. This day is also important for Turks. It is related with legend of Ergenekon.
Hıdırellez is a kind of Islamic spring festival which is in early May. It is the meeting day of Khidr and Elijah and going on a picnic is popular activity in this particular festival.
Vietnam
Vietnamese use the traditional lunar as well as the modern solar calendar. They celebrate Tết (Vietnamese New Year) in late January or early February is also known as the beginning of spring. The lunar calendar is used mainly to divide the year into seasons for agriculture purposes. In the old days, the celebration used to last the entire month of January of the lunar calendar. Traditionally, firecrackers are used on New Year's Eve, or đêm giao thừa in Vietnamese, to scare away bad spirits and souls.
Spring According TC
Traditional Chinese medicine
According to: https://www.acufinder.com/Acupuncture+Information/Detail/The+Spirit+of+Renewal+Spring+and+Traditional+Chinese+Medicine
It is the long-awaited change of winter to spring. Seeds sprout, flowers bloom, and the sun warms the earth. There is a sense of renewal and new life all around.
While winter was a time to conserve energy and reduce activity, spring is a time of regeneration, new beginnings, and a renewal of spirit.
The Principle of the Five Elements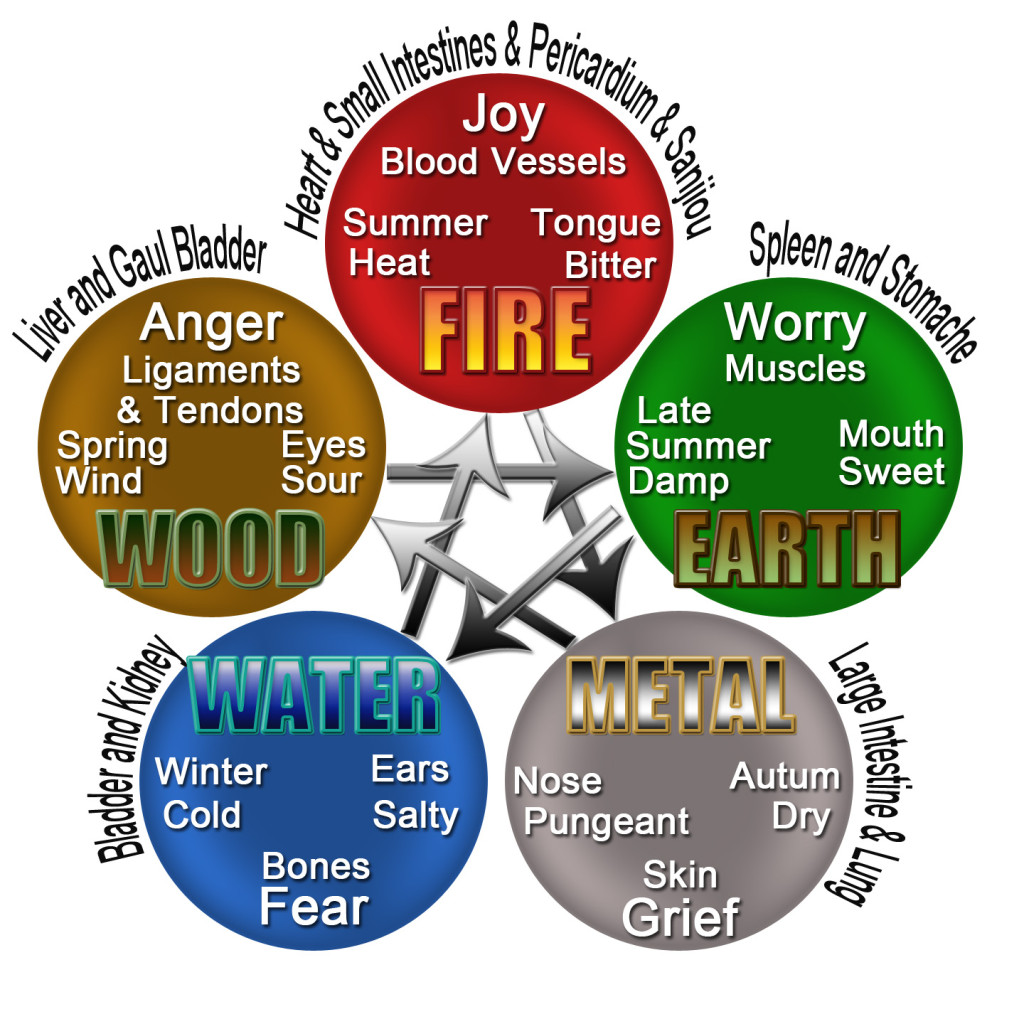 The five elements refer to wood, fire, earth, metal, and water in Eastern philosophy. The Principle of the Five Elements (known as the Wu Hsing in Chinese) describes the flow of Qi and the balance of yin and yang.
According to the principle, all change – in the universe and in your body – occurs in five distinct stages. Each of these stages is associated with a particular time of year, a specific element in nature, and a pair of organs in the body. Change links together the seasons of the year, aspects of nature, and your body's organs and bodily processes. A practitioner of traditional Chinese medicine uses this principle to diagnose and treat health problems, linking specific foods, herbs, and acupuncture points to the restoration of yin-yang and Qi.
SPRING:
Spring is the ideal time for cleansing and rejuvenation for overall health and well-being. As spring is represented by the wood element and includes the liver and its complementary organ, the gallbladder, these two organs are usually the primary targets for springtime cleansing and health regimens.
Element: Wood
Color: Green
Nature: Yang
Organs: Liver, Gallbladder
Emotion: Anger
Learn more about the Liver and Liver Qi Stagnation
Put Some Spring into Your Step
Spring corresponds to the "Wood" element, which in turn is conceptually related to the liver and gallbladder organs. According to the philosophy of Chinese medicine, the liver is responsible for the smooth flowing of Qi (energy) throughout the body. When the liver functions smoothly, physical and emotional activity throughout the body also runs smoothly.So, for optimum health this spring, move your Qi!
According to: http://www.itmonline.org
The liver is associated with wood. Wood qi is characterized by its upward momentum and its innate desire to be straight. As long as the flow of liver qi is not impeded, the blood vessels will remain open and unobstructed.
The liver is the organ that is in charge of storing blood. It also commands the ministerial fire (xiang huo). If there is sufficient blood, this fire will be warm but not fierce. As a result, the blood can circulate smoothly through the body's three burning spaces; it will reach the pores, and every single place in the body will benefit from its warming and nourishing function.
Liver and spleen function together by assisting each other. However, people are always quick to point out that an excess of liver wood can injure the spleen earth, and thus have a detrimental affect on the proper digestion of food. But nobody seems to pay attention to the fact that a weak liver cannot circulate the spleen qi and thereby also cause maldigestion. Below, the liver connects to the Sea of Qi [lower dantian, associated with the kidney], which means that the liver is closely associated with the body's ministerial fire. It can utilize the power of this fire to produce earth. The food which enters the spleen and stomach relies on this power to be 'cooked.' This is what is meant by saying that the liver and the spleen function by assisting each other.
The liver relies entirely on kidney water to sustain it, on blood to moisten it, on lung metal's clear nature and descending function to keep it in check, and on the generosity of the middle palace's earth qi to nourish it.
The eyes represent the orifices of the liver.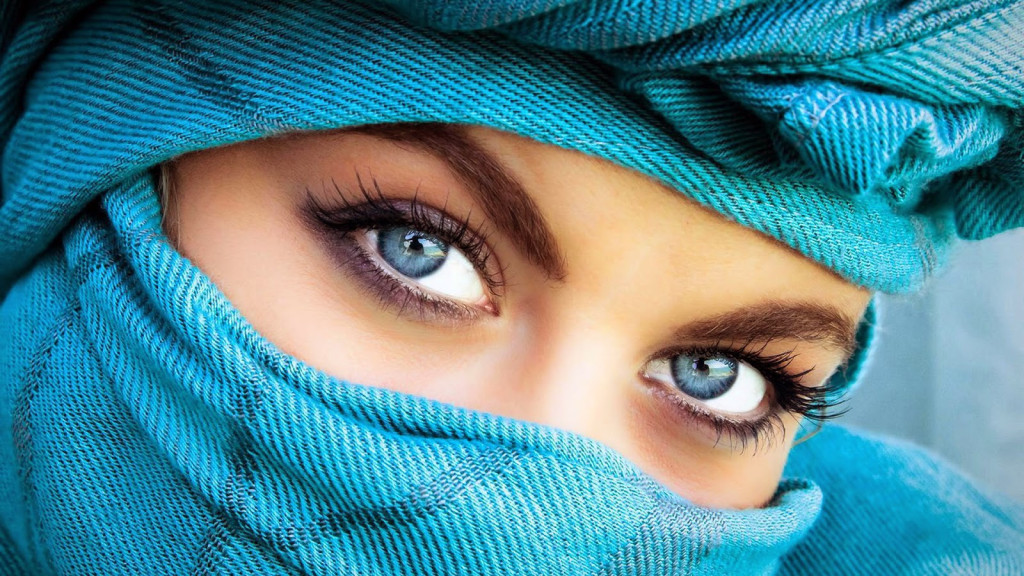 When a person closes his/her eyes and falls asleep, the blood returns to the liver. From there it is transmitted to the eyes, and the ability to see results from this. When a person sleeps, now, the nameless fire within grows dim in order to revitalize. Although it may be impossible to refrain from sleeping altogether, it is advisable not to just let this energy dissipate for the mere sake of falling into a slumber.
Insomnia caused by a cold deficiency pattern of the gallbladder is accompanied by symptoms of restless thought and a sensation of extreme mental weariness. Excess heat in the liver will typically cause a person to sleep too much, resulting in the mirror of intelligence gathering dust and a deterioration of the root of good health. None of these conditions, obviously, are the result of proper nourishing of the liver and gallbladder nor an appropriate way of subduing the sleep issues.
The essence of sleep, after all, is the soul of the body. If you can manage to sleep without over doing it , then the master mind will be bright and alert. Not only will your shen qi be flowing freely and purely, but you will also not be disturbed by dreams. Every time you are overcome by a craving for sleep, blood rushes to the heart and the original shen is forced to leave its abode.
Spring is the liver time.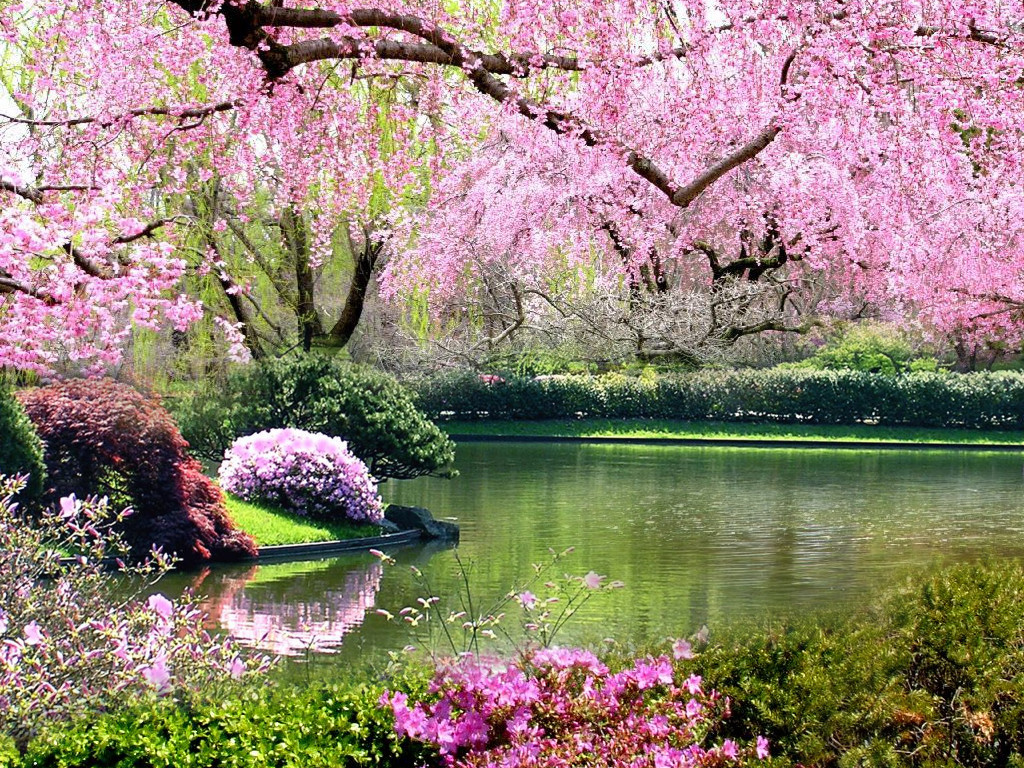 The three months of spring are the period of commencement; heaven and earth are born, and all living things are flourishing. Get up early in the morning, walk around in the courtyard, loosen your hair and relax your body. By doing so you will generate mental strength and act in harmony with the qi of spring, thus following the way of nourishing life. If you live contrary to this principle, you will harm your liver.' Everybody should be aware of this basic principle.
Emotions such as anger, embarrassment, or unexpected joy can also increase blood flow, causing the ears and face to turn red. In situations when less blood is needed, it is "stored in the liver," which thus assumes a warehouse-like function. The actual storage of blood is done in the penetrating vessel, one of the eight extraordinary vessels that extends from the lower dantian to the head; this vessel is often considered to be part of the liver network. The liver is best compared to a managing clerk, who moves goods in and out of the warehouse as they are needed.
Just as important is the liver's function of maintaining a smooth and uninterrupted flow of virtually all body substances (including qi, blood, jing, and liquids and humors). Proper coursing and draining, or lack thereof, is mostly reflected in the relation of emotions to qi and blood circulation and to the influence of the liver on digestive system functions:
Emotional aspect: the ancient Chinese observed that human emotions are largely governed by the heart network. However, they also concluded that mental well-being or various shades of depression have an association with the coursing and draining function of the liver. Only if the liver carries this task out properly can the body's qi and blood flow unobstructed, and thus facilitate a feeling of ease, harmony, and peace. If for some reason the liver fails to maintain this state, depression (of liver qi) or pathological rising (of liver yang) may result. As the Qing Dynasty classic, A Treatise on Blood Disorders (Xue Zheng Lun), states: "The liver is classified as wood; wood qi is characterized by its determination to go straight to where it wants to go to; if it is not blocked or suppressed, the movement in the vessels will be smooth."
Digestive aspect: since this moving function of the liver regulates the qi flow in the entire body, it influences the dynamics of the other organ networks, particularly the neighboring digestive systems. It assists the upward and downward flows of the spleen/stomach system (the stomach is to move the food mass downward, the spleen is to move the extracted qi upward), passes bile into the intestines, helps to transport food essence, and aids the unobstructed movement and metabolism of water. The Treatise on Blood Disorders says "Coursing and draining is an integral part of liver nature. Once food qi enters the stomach, it is entirely up to the liver wood to course and drain it. Only if this process is intact will grain and water transform properly."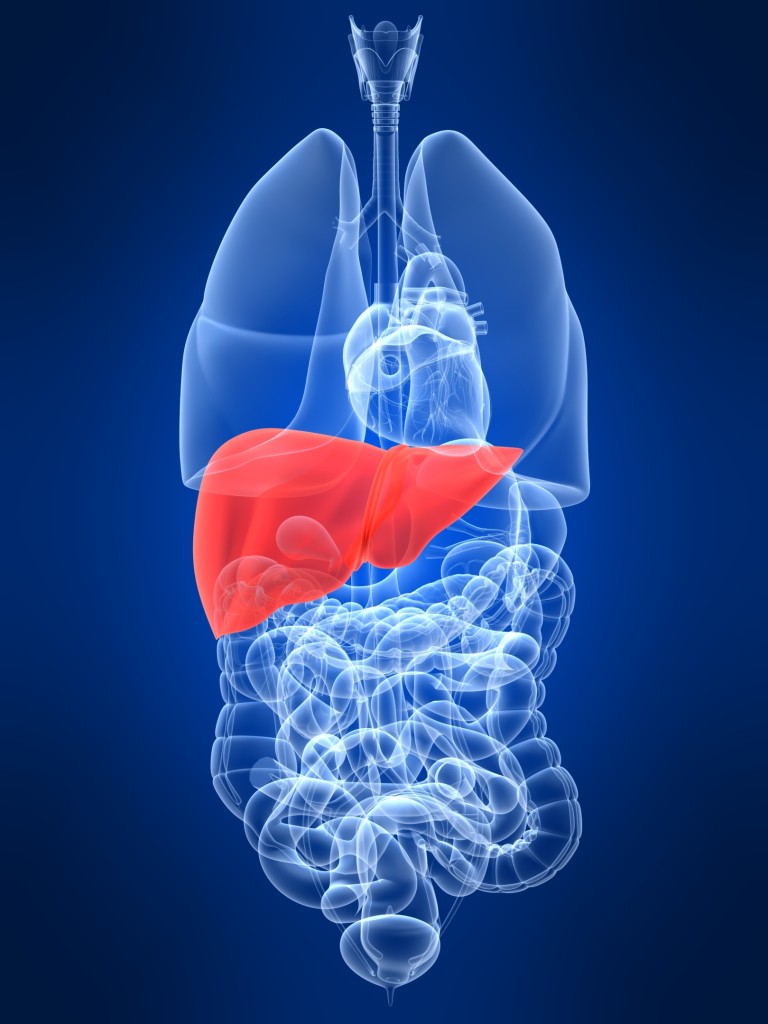 According to traditional concepts, male physiology is mostly based on qi (yang), while female physiology is primarily based on blood (yin). Males tend to have an abundance of qi that they can afford to spend freely, while females have an abundance of blood that they can give away freely (as becomes evident from the menstrual bleeding). Liver function, therefore, has great influence over an important part of female physiology-menstruation.
The penetrating vessel and the conception vessel, are two pathways linked to the liver that are intimately involved with the transportation of blood. The penetrating vessel, above compared to a warehouse, is also called the Sea of Blood; and the conception vessel, as the name indicates, is credited with the function of nourishing the uterus and the fetus. Both the conception vessel and the penetrating vessel belong to the category of the eight extraordinary vessels. Both these vessels are involved in the liver's ability to store blood; they set out from the uterus, and are also closely linked with the kidney channel.
The When one's circadian rhythm is disrupted, sleeping and eating patterns can run amok connect the muscles to the bones. In accordance with the characteristics of the liver, they facilitate smooth and continuous movement. Because of this basic concept, some scholars have recently included the nerves. The proper functioning of the tendons relies entirely on their nourishment by liver blood.
The nails are considered the surplus of the tendons: as such, they are an exterior manifestation of the general quality of the tendons, and thus, liver blood within. Dry and brittle or extremely pale nail beds always indicate a poor quality of liver blood, while pink nailbeds and firm nails indicate a healthy state of liver blood.
Hair is also associated with the liver blood: it is called the "surplus of the blood" (xue yu). The rich liver blood of females is expressed in lush, long, and fast growing hair on the head; males have more facial and body hair, which is governed by the qi organ, lung. Dry and brittle hair can be an indication of liver blood deficiency, while hair that suddenly falls out (alopecia) is usually because of both deficiency of blood and impeded flow of liver blood to the head, usually due to sudden emotional trauma.
The eyes are nourished by the essence of all five organ networks, and thus differentiated into five organ specific zones which may reveal important diagnostic information. The eyes as a whole, however, represent the opening of the liver, and are thus considered to be more closely linked to the liver than to any of the other organ networks. "Liver qi communicates with the eyes," states the Neijing, "and if the liver functions harmoniously, the eyes can differentiate the five essential colors….If the liver receives blood, we can see. The liver channel branches out to the eyes. Both liver qi and liver blood flood the eyes to maintain proper eyesight. A person's eyesight may therefore also serve as an indicator for liver function.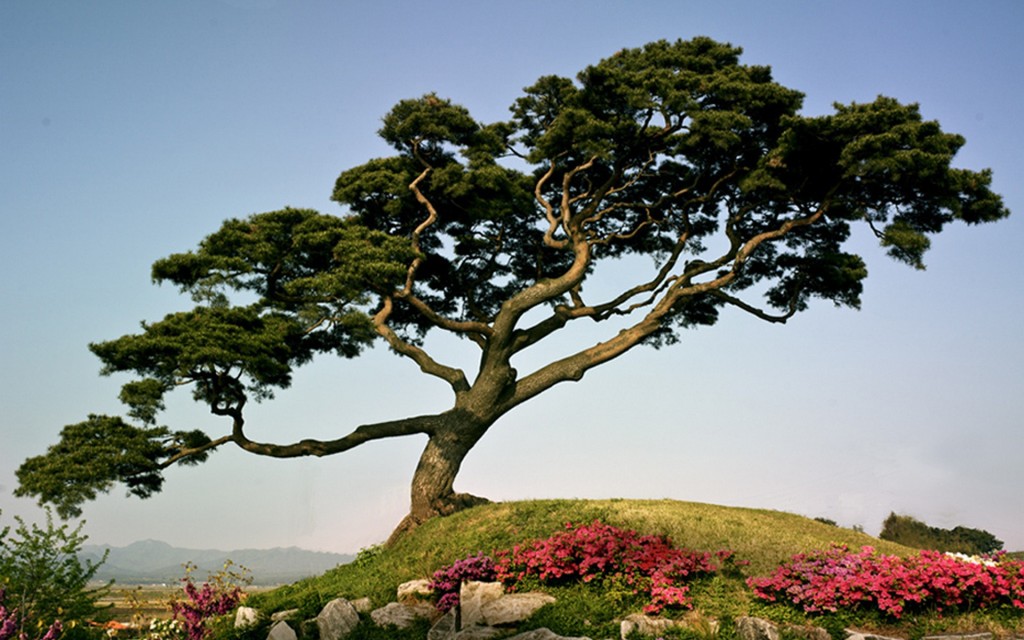 Just as trees (wood) tend to unrelentingly pursue their upward quest for the light, the liver represents the innate will of the body/mind to spread outward. Just like qi and blood have to spread within the body to ensure physical survival, human shen needs to spread freely through the social environment to guarantee an uninhibited passage through life. Individuals with strong liver qi and blood are usually excellent strategic planners and decision makers: they know how to spread themselves into the world. Due to these qualities, they often make outstanding business managers. If, however, this tough and determined spreading nature of the liver is not in a state of harmonious balance with the softer side of liver wood-ease, smoothness, flexibility-the wood-endangering state of rigidity arises.
The Liver Loses Its Ability to Course and Drain: if qi gets stuck, the inhibited coursing action of liver qi immediately manifests in the form of mental and emotional symptoms; depression, sensation of emotional pain, or crying are typical examples. If liver qi flares up and upsets the harmonious interplay between body and mind, outbursts of anger, or pain and distention in the sides of the chest may result.Typical signs of a liver qi disorder implicating the neighboring spleen/stomach system are belching, regurgitation of stomach acid, vomiting, and diarrhea.
Liver Disharmony Reflecting on the Emotions and Mental Activities: a deficiency of liver qi typically causes a person to be indecisive and adrift, with a marked inability to plan ahead effectively. If gallbladder qi is deficient, the person will be fearful, have a panicky disposition, and have difficulty making decisions.primary symptoms are tendency to get depressed; frequent sighing; impatient disposition and temper outbreaks; sensations of stuffiness; fullness or congestion in the chest, intercostal, or subcostal regions. Secondary symptoms include obstructed bowel movements; dry and distended eyes; feeling of something being stuck in the throat; self-doubts and crying; pain (especially intercostal and abdominal) that is characterized by moving, pulling, or penetrating sensations; in females; premenstrual breast distention; menstrual cramping and irregular menstruation. The tongue typically presents with a reddish body (especially at the sides) and a thin coating; the pulse tends to be wiry.
LIVER YIN DEFICIENCY herbs:peony (baishao), lycium fruit (gouqizi), ligustrum (nuzhenzi), gelatin (ejiao), tang-kuei (danggui), rehmannia (dihuang), cornus (shanzhuyu), ho-shou-wu (heshouwu), turtle shell (biejia), zizyphus (suanzaoren), biota (baiziren).
LIVER BLOOD DEFICIENCY Representative Herbs: tang-kuei (danggui), peony (baishao), gelatin (ejiao), ligustrum (nuzhenzi), cornus (shanzhuyu), cnidium (chuanxiong), zizyphus (suanzaoren), millettia (jixueteng).
Representative Formulas: Tang-kuei Four Combination (Siwu Tang); Tonify the Liver Decoction (Bugan Tang); Linking Decoction (Yiguan Jian) minus melia (chuanlianzi) plus peony (baishao).
Before making any decisions in supplements please consult your Health provider and a Certified Acupuncture practitioner.
Time for the organs and meridians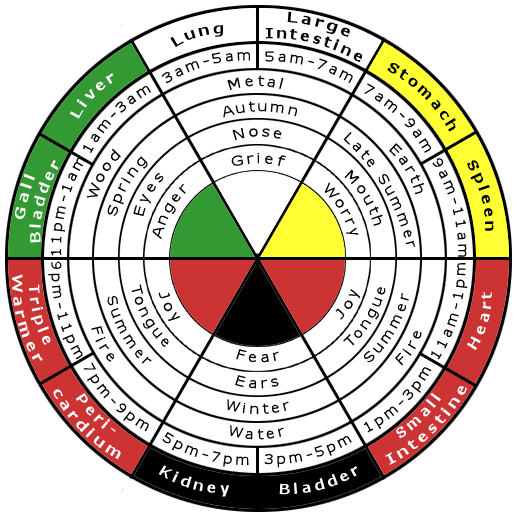 from: http://www.drterrywillard.com
According Circadian rhythms (Often referred to as the "body clock", the circadian rhythm is a 24-hour cycle that tells our bodies when to sleep and regulates many other physiological processes. This internal body clock is affected by environmental cues, like sunlight and temperature. When one's circadian rhythm is disrupted, sleeping and eating patterns can run amok) and the TCM (Traditional Chinese Medicine) meridian clock can greatly influence our body and our mind. These rhythms tell a practitioner a lot about a person's general health and challenges .One of the easiest places to see this is with sleep patterns. Many people complain about always waking at the same time through the night.
Traditional Chinese Medicine (TCM) meridian clock could give us great clues. If a person always wakes at 2:00 am, this is in the time of the Liver.
Not to be concerned, this doesn't mean you have a serious liver problem; the word Liver is partly a translation issue.
The acupuncture meridians are an energetic system, or a kind of 'electrical system,' of our energy patterns. These meridians have often been said to be rivers of energy called Qi (pronounced Chee). The meridians might be in our body, but there is no specific anatomical part that makes them up. They are more like radio waves. The organ associated with a meridian, in this case the liver, is not the cause of the meridian; the organ is more or less a physical artifact, of the Qi of the meridian. Simply, the Liver meridian's energy pattern deals with much more than the physical organ of the liver. In Chinese Medicine  there are 14 major meridians that conduct the flow of Qi throughout the body. Twelve of these meridians make up the 24-hour clock, with 2 hours each. The energy is constantly flowing through all of these meridians throughout the 24 hours, with each meridian having a 2-hour period of time as the primary meridian.s resistance or blockages (like stress) that reduce the flow of energy. This resistance also causes imbalance in the flow between meridians.
By looking back at the meridian clock, you may find some clues as to what is going on. Remember, the body never lies.
Each one of the meridians also has certain responsibilities. Following is a basic list of these attributes:
Stomach – Nourishment of others; nourishment from outside
Spleen – Nourishment of self in every way

Heart

– Connection to your spirit; circulation of Qi (energy); heart and mind working as one
Small Intestine – Communication (speaking, listening); perception; truth
Bladder – When to use our resources; being controlling
Kidney – Reproduction and creating things in life; our resources
Pericardium (aka Sex/Circulation) – Intimate relationships; protecting your heart; healthy boundaries
Triple Heater – Non-intimate relationships; social aspects
Gall Bladder – Determination and decision making; action
Liver – Internal plans; the vision for life
Lung – Barrier (skin) to the outside world; understanding what is of true value
Large Intestine – Letting go of impurities (of emotions and beliefs, past experiences) ; holding on to what is of value
Recipes for the liver
IRMA'S DANDELION DELIGHT
from: http://www.tcmworld.org/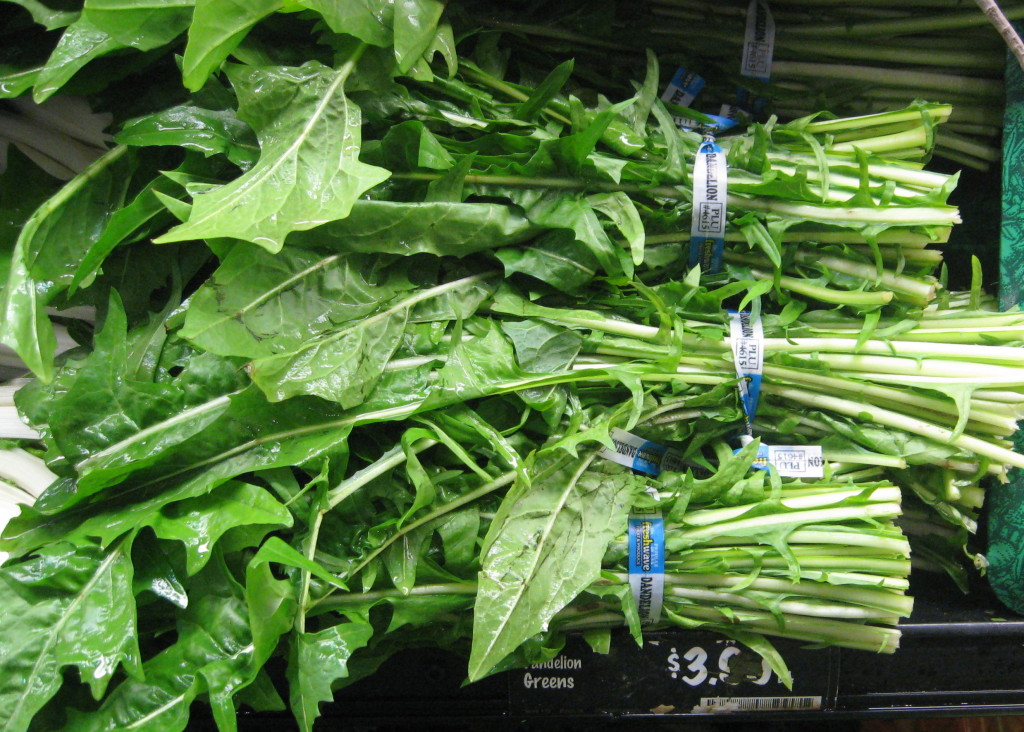 Dandelion greens are ideal for supporting Liver health and for clearing toxic heat out of body and blood. Scallions and garlic also help to support Liver health. Try adding pine nuts or black sesame seeds to give support to the Liver's mother, the Kidney. Adding spicy chili black bean sauce and sugar will help cut some of the natural bitterness of the dandelion greens.
Ingredients
• 2 cups of washed and chopped (2 inch pieces) dandelion greens
• 1 scallion
• 1 clove of garlic, diced (optional)
• Grapeseed oil for cooking
• Salt (to taste)
• Cooking wine (Chinese rice cooking wine or sherry is nice)
• Mushroom powder (optional)
• Chili black bean sauce (optional, also can use oyster, teriyaki, garlic, etc.)
• Honey (to taste)
• Toasted pine nuts (optional)
• Toasted black sesame seeds (optional)
Preparation
Cut one scallion into 2-inch pieces. Heat a wok with grapeseed oil until very hot. Add a small pinch of salt. Add the scallion and garlic and cook, stirring, for about 10 seconds. Add greens. Sauté lightly, adding a splash of water if too dry. Add more salt, mushroom powder, and Honey (to balance the bitterness), to taste. Add a splash of cooking wine or stir-fry sauce to taste. Toss with sesame seeds or pine nuts before serving.
TEN MINUTE TARO AND LEEK SOUP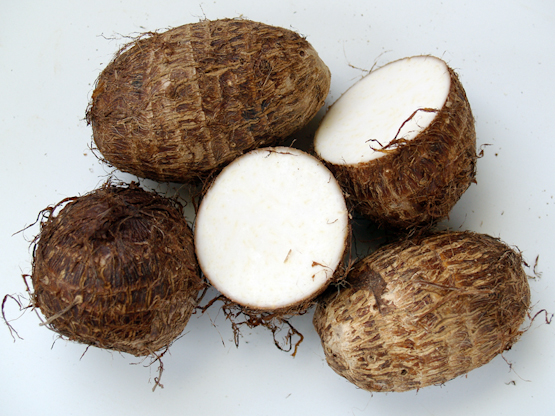 Taro root is harvested in the fall and is great to promote a healthy digestive system.The leeks will support your Liver while seaweed will help the Kidney.
Ingredients
• 1 cup of diced taro root
• 3/4 cup of leek, sliced thin
• Handful of dried seaweed
• 1/2 teaspoon of olive oil
• Salt to taste
• 1/4 teaspoon of sesame seed oil (optional)
Preparation
Bring 2 quarts of water to a boil. Add taro root, leek, seaweed and salt. Allow mixture to boil for ten minutes. Add olive oil and let boil one additional minute. If you like the flavor of sesame oil, add a dash just before serving. Tip: make sure you have enough water boiling to allow the taro root space to move while cooking. Do not let the taro root get mushy.
CRUNCHY LOTUS ROOT

This delicious and crunchy food has been used for thousands of years to support Lung function as well as Liver function. Sautéed, juiced, or ground for tea, the lotus root is a great addition to your diet, especially in autumn.
Ingredients
• 1 lotus root
• 1 scallion
• Oil
• Salt
• Honey
• Fish sauce
• Chinese rice wine
• Water as needed
Preparation
Peel the lotus root, cut in half lengthwise, and then slice thinly. Chop the scallion in 1-inch pieces, separating the green from the white portions. Heat the wok well, then add the oil and continue to heat. Add a pinch of salt and the white portion of the scallion. Stir in the lotus root and continue to cook for about 1 minute. Add the ½ teaspoon of Honey (or to taste), a splash of fish sauce, and toss well for 1 minute. Finish off by adding a splash of rice wine, toss and serve warm.
from: http://ilovenamaste.com/ayurvedic-tips-vibrant-spring/
1. CLEAR OUT YOUR CLOSET – CLEAN YOUR HOUSE.
It sounds basic but de-cluttering your space will help you de-clutter your mind. They say the body is the temple of the mind, and it's much easier to clean the temple of the body and mind when the literal temple of the home is clear. Get new plants and increase the amount of fresh green things in your living space.
2. CLEAN OUT YOUR BODY.
Spring is the perfect time for a mild Ayurvedic cleanse to reduce toxins (ama) from winter. Since spring is ruled by the organs liver and gallbladder, it the perfect time to give those organs a break. It's like an oil change for your body.
Try cutting out sugar, alcohol, dairy, caffeine, cooked oils and red meat for 2 weeks just to give your body a break. The first 3 days are the hardest – it gets easier after that! Getting a friend or partner to join helps a lot too. Increase your intake of water, yoga, rest and alkaline foods (green veggies, fruits, whole grains, raw olive oil, avocados). If you have allergies, increase your intake of bitters, sours and astringent. Bitter veggies (arugula, mustard greens, dandelion greens) support the liver and gallbladder, helping to cleanse the system.  The excess of winter is all about sweet, heavy comfort foods. Now is the time to cleanse those out of the system.
3. SIMPLY BREATHE!
The simplest is often the hardest. When we simplify our days, our desks, our dreams, we have more space just to be. Too breathe, to rest, to delight in the moment. Find 10 minutes in your day to do pranayama (breathing practices) and then just sit (or put your legs up the wall if you feet feel tired, hot or swollen). If you find pranayama challenging from sinus congestion or allergies you need a neti pot and a steam inhalation (more in class about that).
The simplest pranayama practice is samma vrtti – count to 5 as you inhale and 5 as you exhale. Take a short pause after the inhale and after the exhale, as a reminder to pause and take space! If you feel especially hot, stressed or need to relax, lengthen the exhale (5 in, 8 out). 12 rounds of breath is perfect. Then sit or put your legs up for the remainder of the 10 minutes.
 Some great products for spring. Just click on the image to purchase.
A chance to broaden your discovery with the very best of green teas. Each sample makes about 8-10 cups of tea. This set includes:
gyokuro
 – Deeply sweet, aroma of freshly buttered greens – no grassiness or harshness. Soft with a balanced, delicate finish.
jasmine chun hao 
– Sweet perfumy cup, notes of warmed sugar, slightly toasty like a fresh biscuit. Light, refreshing and not overwhelmingly floral.
anhui emerald seed
 – Brews a light yellow cup with notes of toasted pumpkin seeds and delicate veggies.
dragonwell
 – Inviting, toasty aroma and sweet rounded flavor. Nutty, buttery texture, pleasantly dry finish.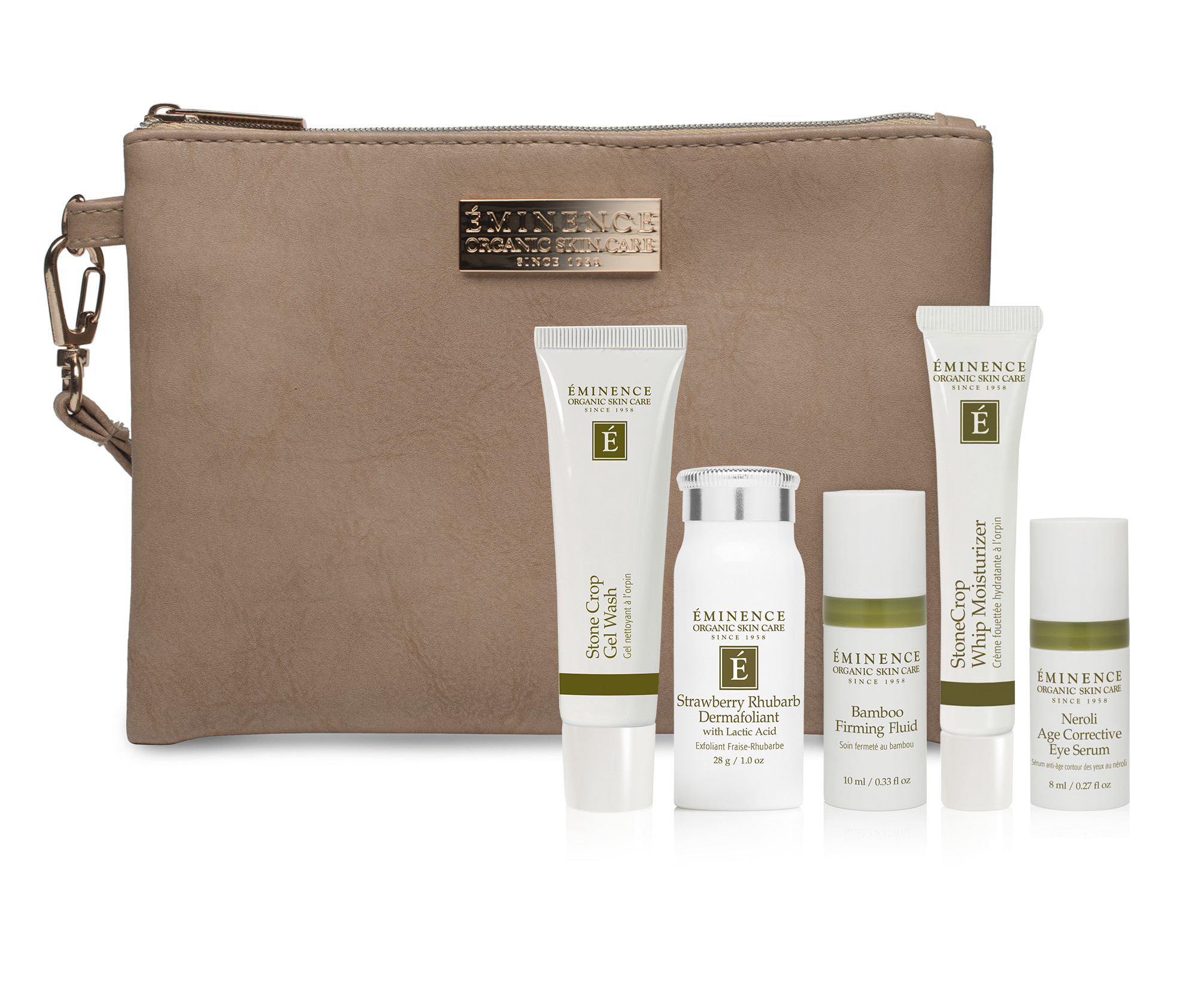 This limited edition gift set includes a travel size cleanser, exfoliant, moisturizer, facial concentrate and eye serum along with a convenient zippered pouch that's perfect for traveling. It's a complete skin care routine that's suitable for all skin types and makes collecting our most popular products a one-stop shop.
Gift Set Features:
Stone Crop Gel Wash

Strawberry Rhubarb Dermafoliant

Stone Crop Whip Moisturizer

Bamboo Firming Fluid 

Neroli Age Corrective Eye Serum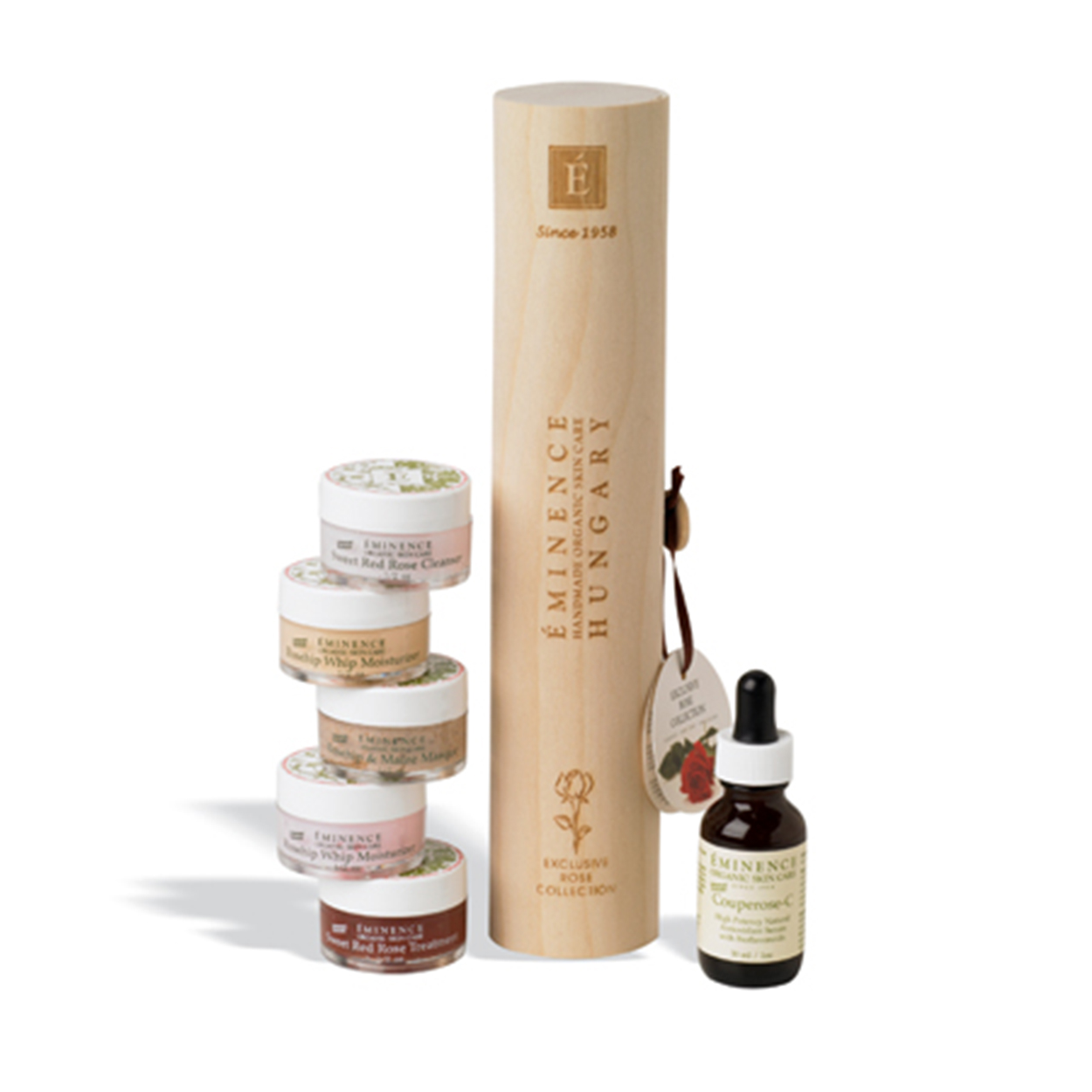 The Rose Collection Tube from Eminence Organics includes five travel-size products and one full-size serum that synergistically cooperate to rejuvenate and revitalize the skin for a youthful appearance and luminescent glow.  With everything you need in a conveniently packaged wooden tube, your skin will look better, feel amazing, and improve its health from the inside out.
The key ingredient in all of the products in the Rose Collection Tube is sweet red rose petals, which shower the skin with antioxidant protection, moisturize the skin with deep hydration, and soothe the skin for a silky-smooth feel and radiant glow.
Each Eminence Rose Collection Tube Includes
Rosehip Whip Moisturizer (0.5oz) – rose petal extracts infuse the skin with moisture and protective antioxidants

Rosehip and Maize Masque (0.5oz) – infuses the skin with deep moisture and resurfaces the skin for a smooth complexion and youthful radiance

Sweet Red Rose Cleanser (0.5oz) – purifies the skin while infusing it with valuable nourishment

Sweet Red Rose Whip Moisturizer (0.5oz) – rains on the skin with moisture, penetrating all layers of the skin for long-lasting hydration

Sweet Red Rose Treatment (0.5oz) – soothes irritated skin and calms inflamed skin; on contact, cools and refreshes your complexion

Couperose-C (1oz) – Vitamin C serum that corrects problematic skin, infuses antioxidant protection, and revives tired skin to reduce fine lines and wrinkles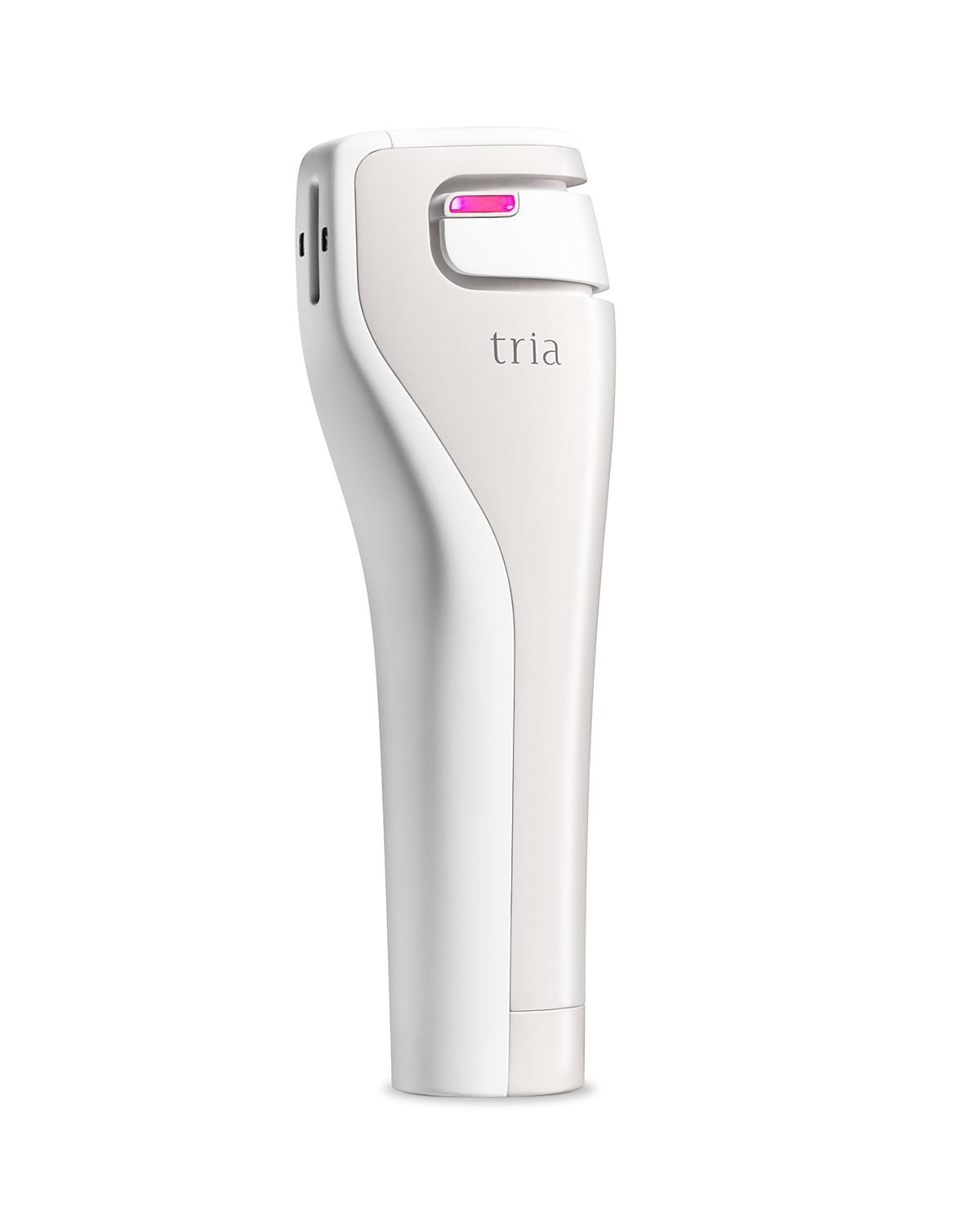 There was a time when people could only enjoy the benefits of the age-defying laser by setting up a series of appointments with their dermatologists. But not anymore. Thanks to the Tria Age-Defying Laser, anyone can restore the youthfulness of their entire faces in the comfort and privacy of their homes.
June Jacobs Cellular Collagen Eye Serum fills fine lines and wrinkles while enhancing cellular function for truly younger looking skin.  Watch fine lines disappear, crow's feet fade away, and dark circles fade away.  Gentle enough for the sensitive skin around the eyes, June Jacobs Cellular Collagen Eye Serum will give you lively, vibrant eyes that look as beautiful as you are.