We have updated the beauty products we offer. We now have three departments.
isabelsbeautyblog.com wishes to announce the opening of our web store, Our vision is to provide you, the customer with well researched high quality products. We only wish to associate with products and companies that stand behind their merchandise and provide integrity and impeccable service. You can be assured that you will not receive false promises, skin care and make up gizmos, but realistic and innovative product care help!
There are many blogs out there, but this is ours.
Our Beauty blog intention is to be a source where the beauty and skincare industry professionals communicate their makeup, skincare, esthetics, dermatology, cosmetic surgery tips, knowledge, and experience. We are also a source for integrity, up to date information about what we consider in our experience to be the top products, procedures and application tips from the esthetic industry. We wish to inspire all beauty lovers with professional tips and techniques on makeup application, green makeup tips, skin care, makeover videos, celebrity makeup artists guest, make up trivia, red carpet makeup, links to products, procedures, and trends, and the history of makeup and esthetics.
Your purchases helps our team and Isabel Beauty Blog to continue providing you with tips, products and Authority guests, and our charities to survive Thank you for all your support and likes it keep us going. We wish that this post finds you in great health, happy and in your ideal success.
Here are some featured products.
Including five travel size products and one full size serum, the Rose Collection Tube from Eminence Organics rejuvenates and revitalizes tired skin to reveal a beautiful complexion that looks and feels amazing.
Want impressive and expressive eyes? Then these limited edition Beauty Books are for you! This high quality, yet affordable eye makeup set allows you to achieve everyday professional results while creating the look that best reflects your personal style. Each popular Beauty Book includes a step-by-step guide to flawless eye makeup. Whether you choose one edition or the whole collection, you'll love these all-in-one palettes with must-have eye makeup essentials.
Special Offer. Get 6 months to pay with PayPal Bill Me Later®
Clear skin is not only possible, it's inevitable, with the right acne treatment that is…. Clinical studies reveal that the treatment of acne with the combined blue and red light therapy can clear up moderate to mild acne inflammation fast:
"We found a final mean improvement of 76% in inflammatory lesions using a combined blue±red light radiation which was significantly superior to those achieved by blue light or benzoyl peroxide." July 2000 – British Journal of Dermatology
Light therapy of the red wavelength stimulates production of collagens, increases skin cell repair, increases blood flow and renews your skin for a radiant and young-looking appearance. Many users also experience improved tone and texture to the skin.
Treat your acne at home the way your dermatologist would in office. Combining blue and red light is superior to using either wavelength alone. The Clear Bi-Light treats current breakouts by reducing inflammation wotj red light while preventing future breakouts via bacteria-slaying blue light. The end result is less acne, inflammation and redness, as well as faster healing and more revitalized skin. The Clear Bi-Light does this faster and better than any other acne treatment and it's 100% safe. Now that is what we call "proactive"!
The Osmosis Skincare Rosacea/Sensitive Kit includes five top-quality Osmosis Skincare products that work synergistically to improve the health and appearance of sensitive skin kits. It even works on Rosacea!
If you battle the signs of aging around the eyes, meet your new favorite skin care tool.
The degree to which any eye cream or serum works depends partly on the ability of the ingredients to get to the right place. That's where eye-o-sonic comes in. It combines ultrasonic waves at 160 oscillations per second plus ionic technology to get eye creams and serums deeper into the skin where they can do the most good. Once you've tried the eye-o-sonic, you will not want to imagine your beauty routine without it.
The ground breaking eye-o-sonic system comes with our 90% organic anti-aging eye cream INTENSIVE with Haloxyl® and Eyeliss®, a cutting edge advanced treatment for the delicate skin around the eyes. Tops my list of best eye cream treatments" according to Andrew Ordon, M.D. co-host of CBS' "The Doctors."
Sonic waves and ion technology in one! eyeosonic is the next generation in the care of the delicate skin around the eyes and fine lines above the upper lip. Skin care products can nourish and moisturize better when absorbed deeper and more evenly into the skin than with fingers alone. Eyeosonic combines (i) sonic waves at 160 oscillations per second with (ii) ion technology to make our INTENSIVE Organic Eye Cream more effective by amping up absorption into the skin.
Using electrically charged ions and sonic vibration, eyeosonic penetrates through the skins outer "wall" to the living cells beneath to carry nutrients and moisture in your creams and serum deeper into the skin where they can do the most good. Aestheticians (specialists in skin beautification) recommend that products used on the skin around the eyes be applied with gentle tapping rather than rubbing to avoid damaging the delicate skin in this area.  eye-o-sonic replaces manual rubbing and tapping with sonic vibrations like 100's of finger taps a second to better infuse serums.
The result is the skin around your eyes is left nourished, hydrated, refreshed and feeling great. Plus the eye-o-sonic is fun to use and relaxing. So once you've tried the eye-o-sonic, you will never want to go back to applying eye cream and serums with your fingers again.
Included with your eye-o-sonic serum Infuser is our full size INTENSIVE Organic Eye Cream with Haloxyl® and Eyeliss®  a cutting edge advanced treatment for the skin around the eyes. (A $38 value):
Fine Lines and Wrinkles. INTENSIVE treats fine lines and wrinkles around the eyes with Copper Peptide and antioxidants Roobois Tea, Acai and Vitamin E to repair sun damage and provide the skin with important anti-oxidant stress and immune support. Encourages elastin and collagen production and strengthens the skin in the eye area enabling it to "bounce back" instead of sagging and wrinkling. Michael Todd has also added Rhodiola Rosea, an herb fairly new to the West, with properties that further work to combat wrinkles and other signs of aging. This yellow flowering plant grows in the northern regions of China, Tibet and Siberia in the mountains and high plains. Scientific studies have shown a variety of health benefits attributed to Rhodiola Rosea, including protection and enhancement of the skin. INTENSIVE fights wrinkles without Retinol which can be harsh and irritating to delicate eye skin.
Dark Circles.  INTENSIVE uses Haloxyl®  the premier ingredient today to combat the skin coloration around the eye that causes dark circles. Haloxyl absorbs and eliminates colored blood pigments in the skin that are responsible for dark circles under the eyes. It also has an anti-inflammatory effect and reinforces firmness and tone of the eye area. Clinical studies have been published that outline the effectiveness and safety of Haloxyl.
Puffiness and Bags. INTENSIVE treats puffy bags under the eyes with Eyeliss® a patented combination of three protein peptides that increase lymphatic drainage, reduce inflammation and help decongest and reduce swelling in the under eye area. When applied with our new soothing massage tip applicator, INTENSIVE gently and quickly breaks up "puffy" eyes.
Hydration.  INTENSIVE uses Organic Olive and Jojoba Oils in a base of Aloe Vera Juice for "intense" soothing and hydrating of dry and sensitive skin around the eyes.
INTENSIVE is made in the U.S. with 90% organic ingredients and contains NO parabens, sulfates, artificial color or fragrance or added water. Not tested on animals. "Tops my list of best eye cream treatments" according to Andrew Ordon, M.D., co-host of CBS' "The Doctors."  15 ml / .5 fl oz
The eyeosonic and eyecream from Michael Todd is a powerful solution for those looking for extra help with the signs of aging in the eye area.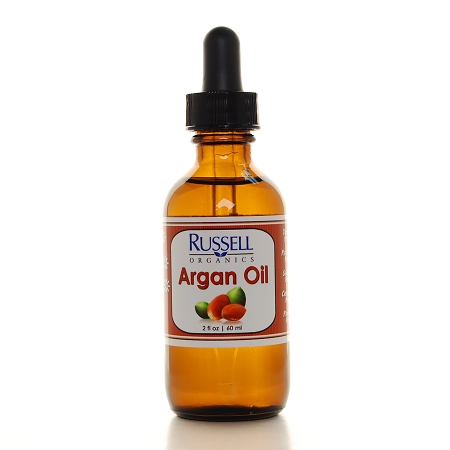 Argan Oil from Russell Organics is 100% pure Argan Oil. Nothing else in the jar. The Russell Organics Argan Oil is the highest and purest quality Argan Oil available.
Discover what all the buzz is about. Widely reported on in major publications such as NY Times, Boston Globe, NewBeauty Magazine, and numerous television reports. Russell Organics Argan Oil is pure cold-pressed Argan Oil. No additives. No fillers. No fragrance. No toxins. Just 100% Argan Oil.
Russell Organics carefully sources its Argan Oil from Morocco, the growing area for the Argan Fruit. It is the hot and dry climate where the Argan Tree thrives in the wild.
Some publications have called this product 'Liquid Gold' for its great value in moisturizing the skin and hair. Used for centuries by many people aware of the unique properties of this oil, Russell Organics now offers it in its purest form. Other brands use drops of oil in their so-called Argan products and fill the rest of the bottle with other ingredients. Only 100% Argan Oil offers all of the incredible benefits available from using it.
Say goodbye to dry! Our Deep Sea Hydrating Complex quenches parched skin for a healthy radiance. A special blend of rare Reduced Salt Deep Sea Water, botanicals and more than 20 ocean minerals soothes and revitalizes skin. The pore-free finish wears for hours.
Everything you need for a fresh face! This all-in-one kit features four full-sized Studio face products, handpicked by our expert makeup artists. With the perfect primer, foundation, concealer, and setting powder, getting a radiant complexion has never been easier. Available in three different shades to make finding your perfect match effortless!
For more products go to our Store