Do Bee Venom Beauty Treatments Work?
In the last couple of years there has been a lot of buzz in the press and the media about bee venom products and the benefits being gained by various actresses, celebrities and royalty using them. But before rushing out to buy wouldn't you like to know just a bit more about what bee venom can or can't do for you? Bee venom treatments aren't a new invention, they have been around for centuries, but it's only recently that the benefits have become public knowledge.
We are always on the lookout for products that can help us to get rid of wrinkles and fine lines or to rejuvenate our skin to its original youthful glow, and this is where bee venom creams and masks seem to play a major role in restoring elasticity and radiance to your skin. So, the next question is do bee venom treatments really work and will they be suitable for you?
What Are Bee Venom Beauty Treatments?
The Chinese and the Greeks used bee venom treatments for centuries but it is only recently that we have recognized their benefits as part of a daily beauty regimen. Aging unfortunately is a fact of life but that doesn't mean we can't take steps to  minimize the facial wrinkles, fine lines and sagging skin. There are a range of specialized bee venom treatments, including bee venom masks and bee venom creams to provide the essential ingredients to rejuvenate and restore your skin back to it's former state.
The venom is harvested from bees without causing them any harm.
How Does Bee Venom Work?
Bee venom, (scientific name: apitoxin) is the clear, odorless liquid that's injected into your skin when a honeybee stings you. It consists of more than 20 known compounds, the most prominent being melittin, a protein that boasts powerful anti-inflammatory, anti-bacterial, and anti-viral properties. Most products that contain bee venom act in a somewhat similar manner when put on your skin, though the effects can vary for different people. Basically bee venom sort of tricks your skin and its mild irritant properties make your skin believe that it is under "attack". Consequently your skin reacts by producing more elastin and collagen plus the blood circulation to the facial skin also increases. The end result is a plumper, firmer and smoother skin.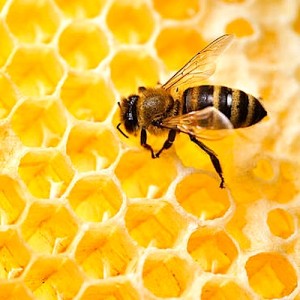 Using bee venom treatments on a regular basis can result in a huge transformation to your facial skin. You should also make sure that you include your neck area in your bee venom regime since it is equally exposed to sun and air pollutants but often overlooked. The bee venom creams can be used overnight and work on the skin even as you sleep. The bee venom masks need to be applied then left on for 15- 20 minutes before washing off with water, and you will usually feel immediate results after a bee venom mask treatment. Combined use of bee venom masks and bee venom cream will result in the cleansing, tightening, softening and nourishing of your facial skin.
What Else Should You Know About Bee Venom Treatments
Bee venom is unique in regard to beauty benefits but a small word of caution at this point – anyone who is allergic to bee products should not use bee venom treatments. They can lead to severe reactions for some people. Always test any product before you start using it on a regular basis and then begin your journey to permanently good-looking skin.

Here are some interesting facts…..
The honey bee has been around for millions of years.
Honey bees, scientifically also known as Apis mellifera, are environmentally friendly and are vital as pollinators.
It is the only insect that produces food eaten by man.
Bee Venom has evolved beyond a physical defence against predators, to be a colony protector.
Honey is the only food that includes all the substances necessary to sustain life, including enzymes, vitamins, minerals, and water; and it's the only food that contains "pinocembrin", an antioxidant associated with improved brain functioning.
Honey bees have 170 odorant receptors, compared with only 62 in fruit flies and 79 in mosquitoes. Their exceptional olfactory abilities include kin recognition signals, social communication within the hive, and odor recognition for finding food. Their sense of smell was so precise that it could differentiate hundreds of different floral varieties and tell whether a flower carried pollen or nectar from metres away.
The honey bee's wings stroke incredibly fast, about 200 beats per second, thus making their famous, distinctive buzz. A honey bee can fly for up to six miles, and as fast as 15 miles per hour.
The average worker bee produces about 1/12th teaspoon of honey in her lifetime.
A hive of bees will fly 90,000 miles, the equivalent of three orbits around the earth to collect 1 kg of honey.
It takes one ounce of honey to fuel a bee's flight around the world.
A honey bee visits 50 to 100 flowers during a collection trip.
The bee's brain is oval in shape and only about the size of a sesame seed, yet it has remarkable capacity to learn and remember things and is able to make complex calculations on distance travelled and foraging efficiency.
A colony of bees consists of 20,000-60,000 honeybees and one queen. Worker honey bees are female, live for about 6 weeks and do all the work.
The queen bee can live up to 5 years and is the only bee that lays eggs. She is the busiest in the summer months, when the hive needs to be at its maximum strength, and lays up to 2500 eggs per day.
Larger than the worker bees, the male honey bees (also called drones), have no stinger and do no work at all. All they do is mating.
Each honey bee colony has a unique odour for members' identification.
During winter, honey bees feed on the honey they collected during the warmer months. They form a tight cluster in their hive to keep the queen and themselves warm.

A special offer from Heaven and Skincare Organtics LTD